🍺 Beer
October 10, 2021, Mont Pinnacle
Brought a "Ta Moins Forte" by Lagabière at the top of the hike! I love how the colors of the can match those of the fall landscape behind it.
I've been drinking less alcohol lately, so with 3.8%, this session NEIPA was a perfect fit for me!
June 28, 2021, Poisson Blanc
June 14, 2020, Larouche
Nothing crazy but it's a beer pic, so it goes here. L'Escapade by Boréale, a Belgian-style witbier with 3.5% ABV, nice and refreshing sport beer during a climbing session. 😛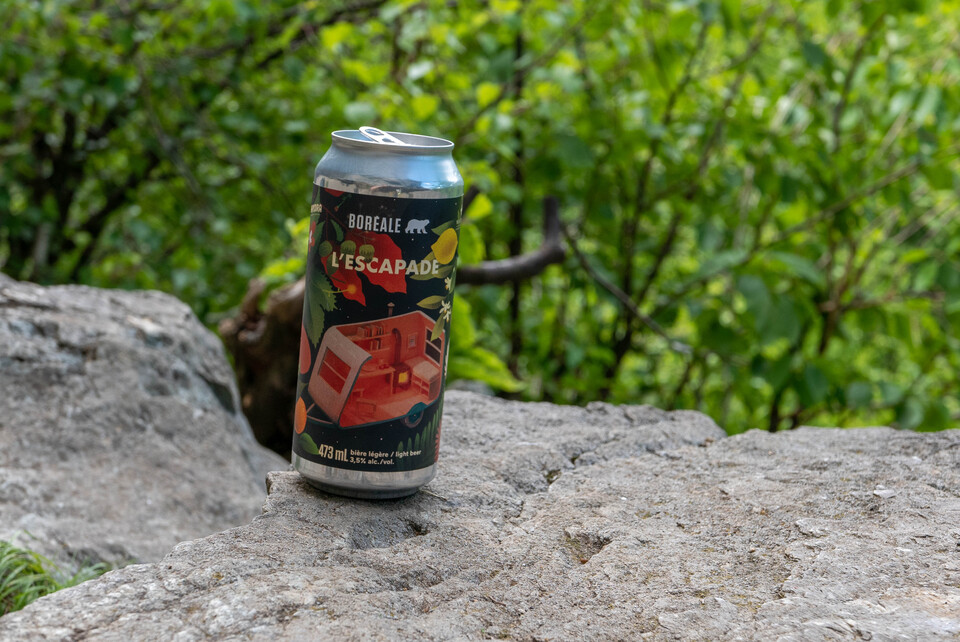 February 5, 2020, Tremblant
Yéti, a lager by Belle Gueule. I love the label! Was a perfect fit for this backcountry ski session in Tremblant.
Moar beer is always nice. This time a Blonde d'été en plein hiver.
October 15, 2019, Busbud
Ping Pong IPA by Pixel microbrewery, from the Busbud office during my last week.
October 13, 2019, Ouareau Forest
Akua by Le Bilboquet, an hibiscus IPA.
August 31, 2019, Indian Head, Adirondacks
Les Brasseurs RJ's new Rocket NEIPA. Nothing fancy, just a good NEIPA! That view though.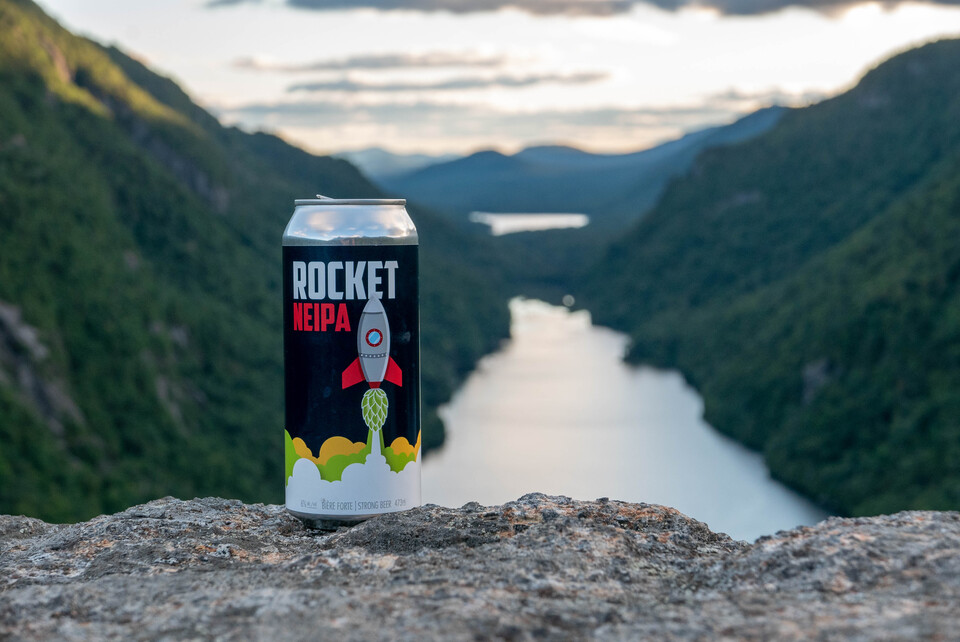 August 18, 2019, Poisson Blanc
Boldwin's Massif des Roses, playing with long exposure and light painting.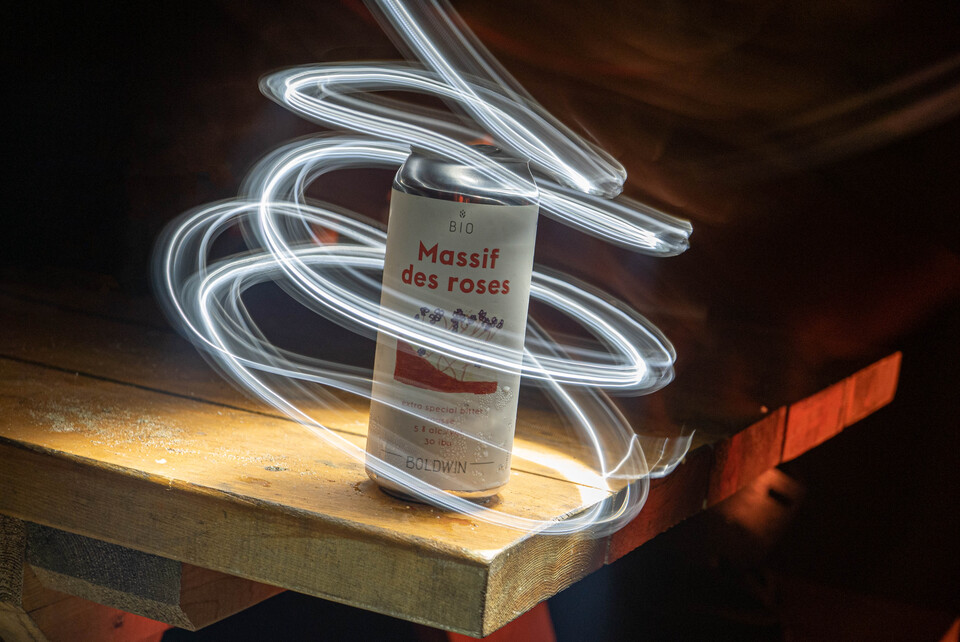 July 20, 2019, Poisson Blanc
Chronique de Mai by Benelux, for my birthday!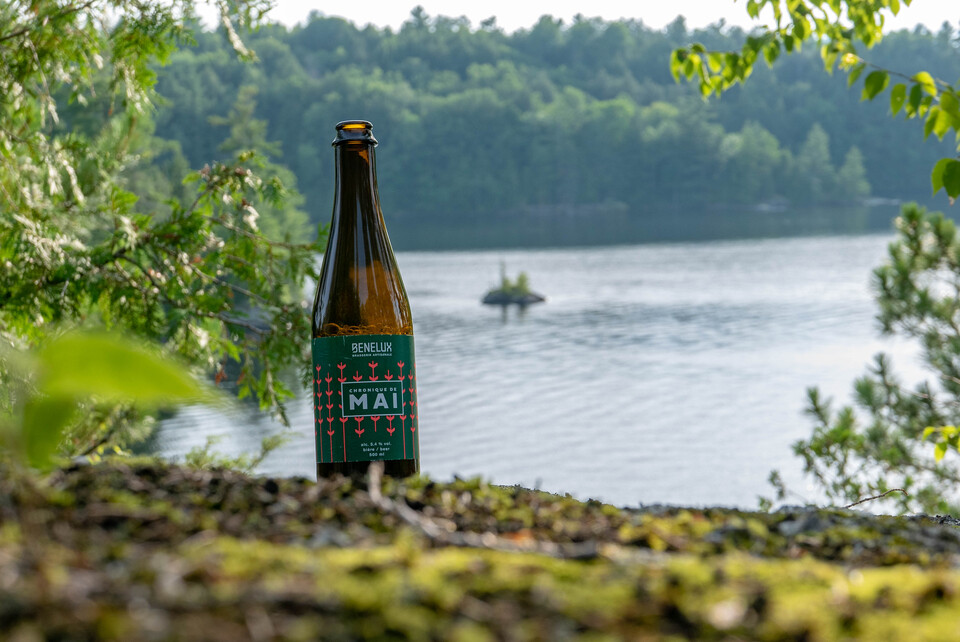 June 26, 2019, Carleton, Gaspésie
Super shitty weather, still deserve my beer on top of the hike. Can't have a view though because the fog is super thick. The Kiwiberry by Le Naufrageur, brewery of the same city. Extremely good smoothie ale with kiwi and strawberries.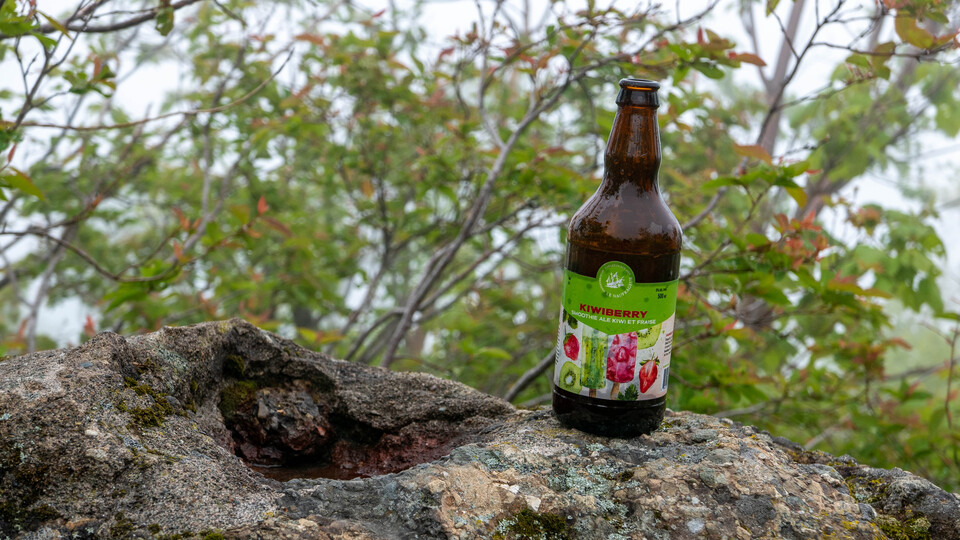 June 25, 2019, Mont Sainte-Anne, Gaspésie
Took the Caribou Sure No.3 by Pit Caribou to the top of Mont Sainte-Anne in Percé, Gaspésie.
This beer is fancy as fuck, Dunham style, it's an assembly of sour beer and a Berliner Weisse, aged 18 months in pinot noir casks with extra hops, peaches and camerises.
Tasty as fuck, loved it.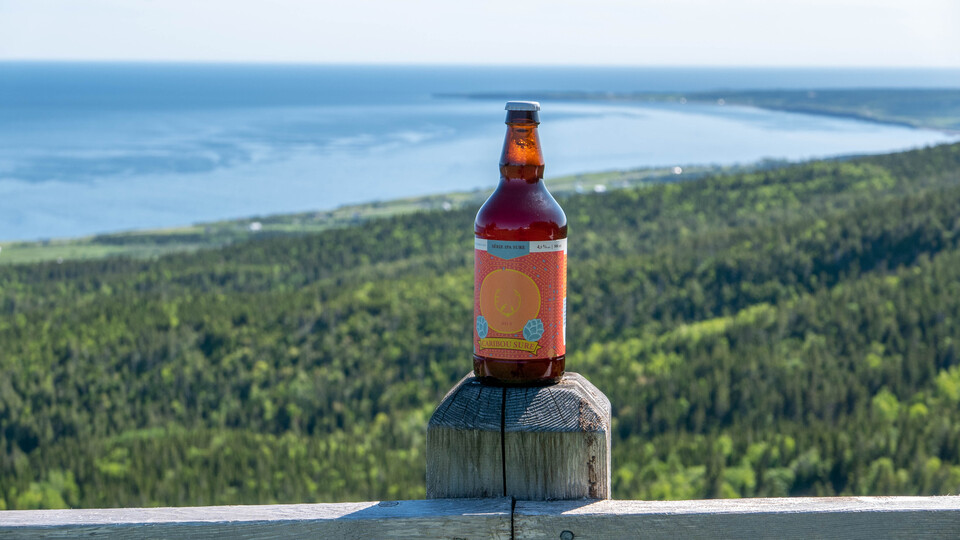 June 22, 2019, Mont Albert, Gaspésie
Always drinking local, this Cuivrée au thé by La Barberie on top of Mont Albert in the middle of Gaspesie National Park.
December 23, 2018, Mont Saint-Hilaire
Took a homebrew on top of Mont Saint-Hilaire! The first version of the Session NEIPAnanas, a pineapple NEIPA.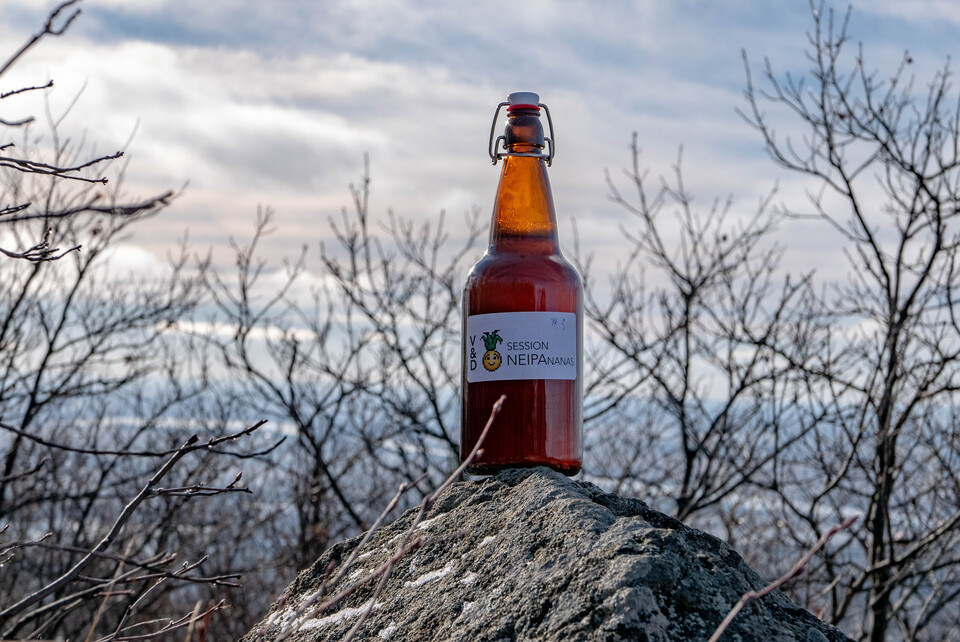 November 26, 2018, Blow Me Down, Newfoundland
Had another one of those, this time to celebrate summiting the Blow Me Down trail. Great beer, fantastic views.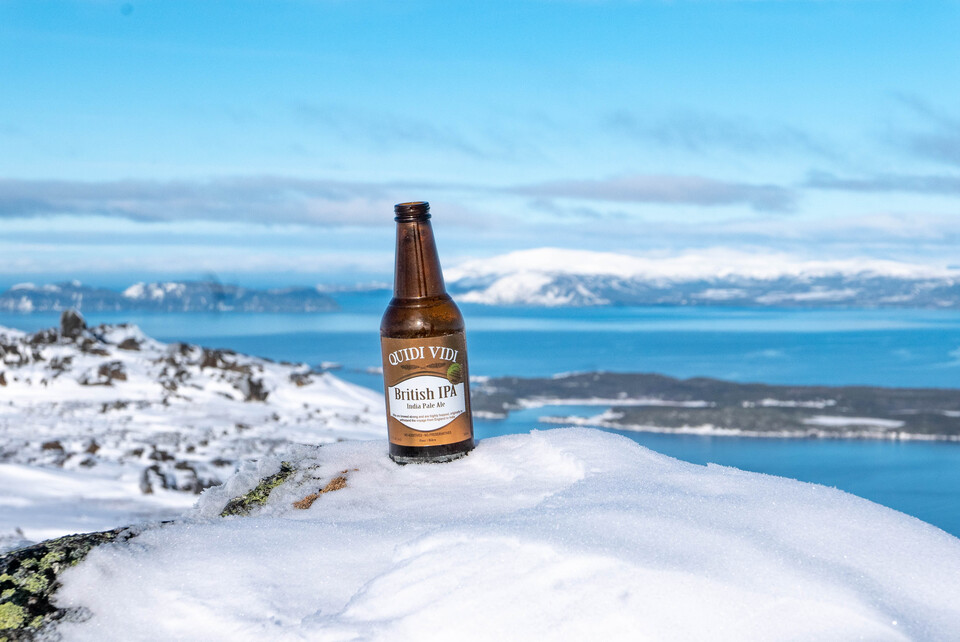 November 25, 2018, Trout River Pond, Newfoundland
Same spot, different beer. We ended the hike with that British IPA by Quidi Vidi.
November 25, 2018, Trout River Pond, Newfoundland
Another one of those big cans by Western Newfoundland Brewing Co., this time an Oat Heavy Pale Ale called Green Gardens Haze. Super strong cereal taste, I loved it.
I also love the fact they recommend on the label, to drink half the can, fish a trout, put the trout in the can, put the can on the fire, and eat the so cooked trout with another can of the same beer. Sadly, I didn't get to try this recipe as we didn't manage to fish a trout.
November 24, 2018, Gros Morne, Newfoundland
While we couldn't go to the summit with the gear we had in those conditions, was still enjoyable to drink that 1892 Traditional Ale by Quidi Vidi brewery during the hike. It was so cold that some ice formed inside the can so we definitely didn't experience the full taste profile of that beer.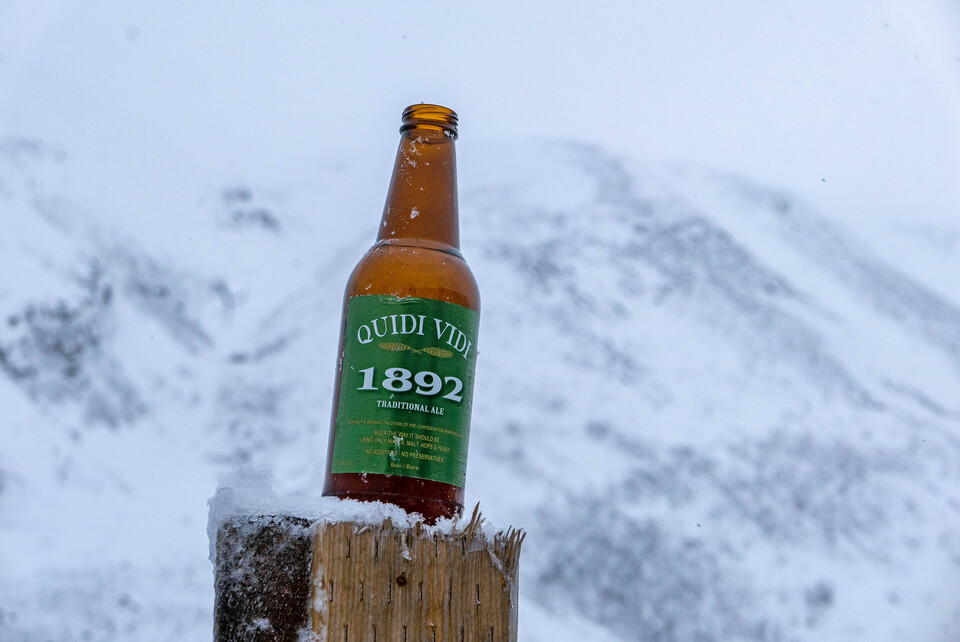 November 24, 2018, Rocky Harbour, Newfoundland
Got my hand on some western Newfoundland 1 L tall cans of extra malted oat heavy beers. Those were fucking delicious and I wish I could find them in Montreal.
This one is the Wild Cove Old World Pub Ale, a cream ale by Western Newfoundland Brewing Co.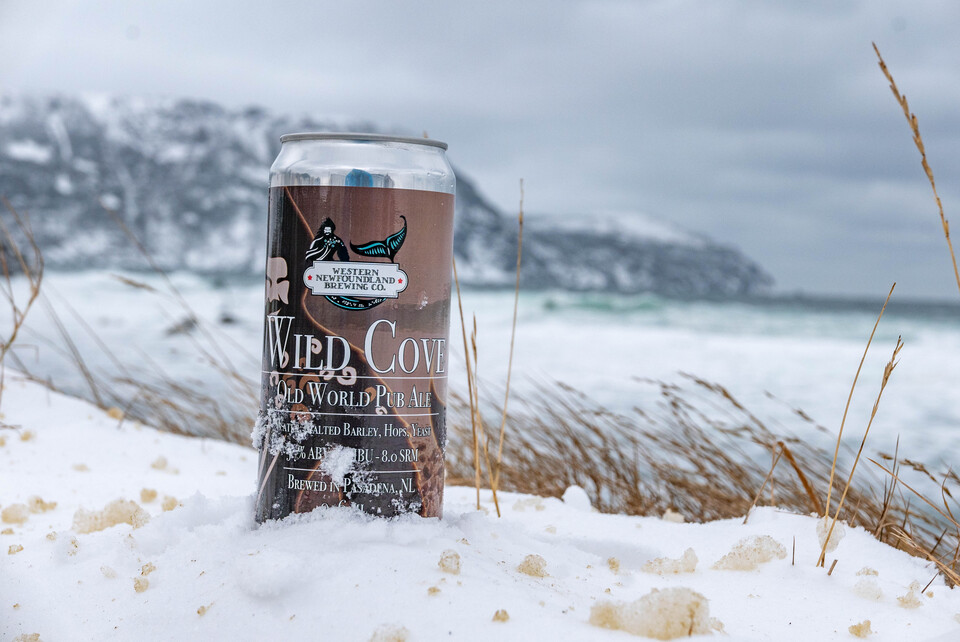 November 23, 2018, Skerwink, Newfoundland
Quidi Vidi's Mummer's Brew on top of Skerwink hike. Super windy day, was a huge pain in the ass to take pictures of that beer because the wind would actually blow it down all the time. Also it was like 10 centimeters away from a huge cliff and I was 10 centimeters away from the beer, which if you make the math, is still pretty fucking close from the cliff.
November 21, 2018, Quidi Vidi Harbour, Newfoundland
Open Saison On Crabapple by Quidi Vidi brewery. Can hardly drink more local than that.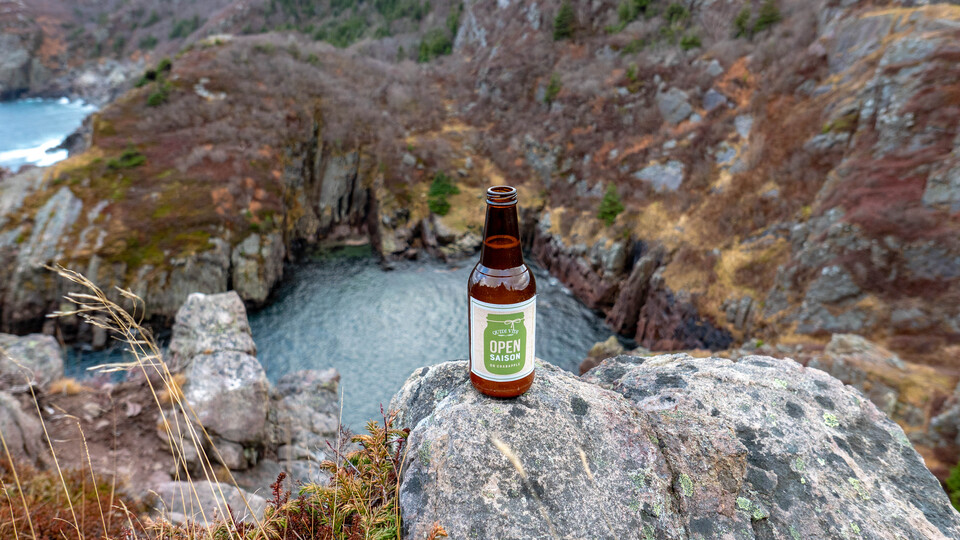 October 13, 2018, Tremblant
Dieu du Ciel's Été Indien, an extremely tasty mango beer that I'm a big fan of, from the top of Tremblant.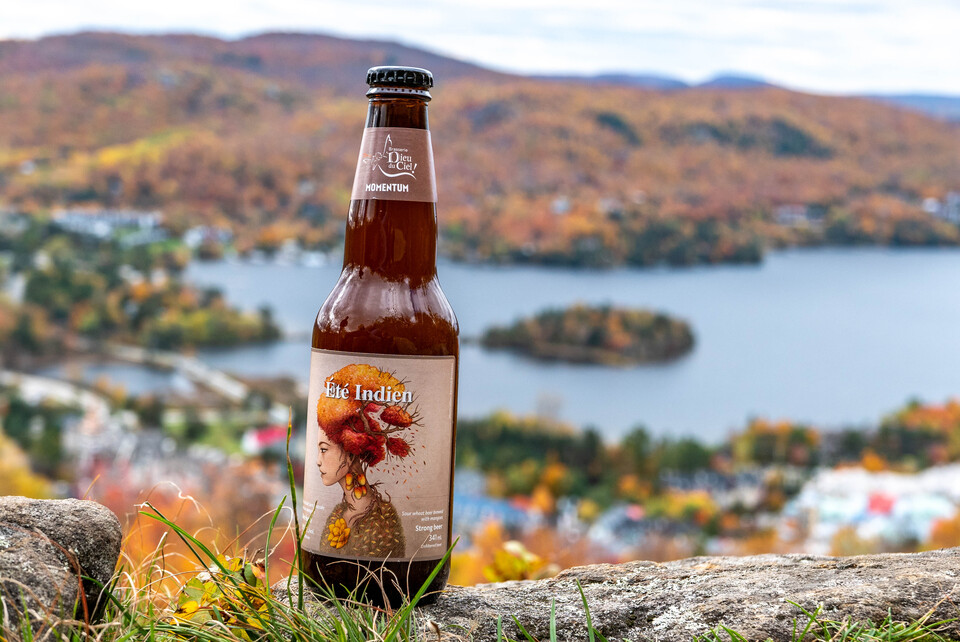 October 8, 2018, Bromont
Ironically, drinking Sutton Brouërie's Dindon Sauvage on top of Bromont. A dry hopped sarrasin Brett ale brewed in collaboration with Dieu du Ciel. The taste of this beer reminds me for some reason of the feeling/smell of picking raspberries in the mountain when I was a kid, and I'm sad it was a seasonal beer and they never brewed more of it.
July 1, 2018, Poisson Blanc
Unibroue's Éphémère Bleuet on the lake.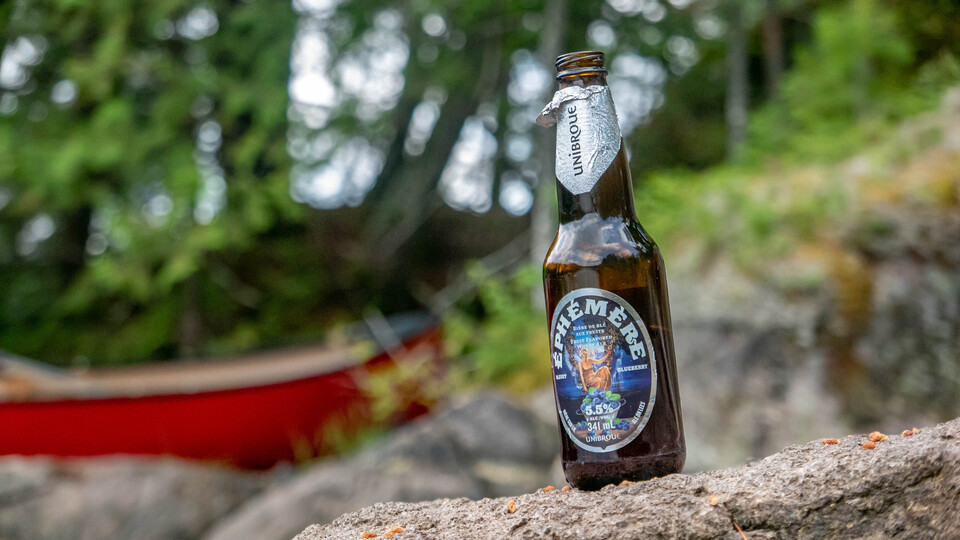 June 2, 2018, Col de la Charmette, Chartreuse
Génépi beer by the Brasserie du Mont-Blanc. You can't have a beer more alpine than that.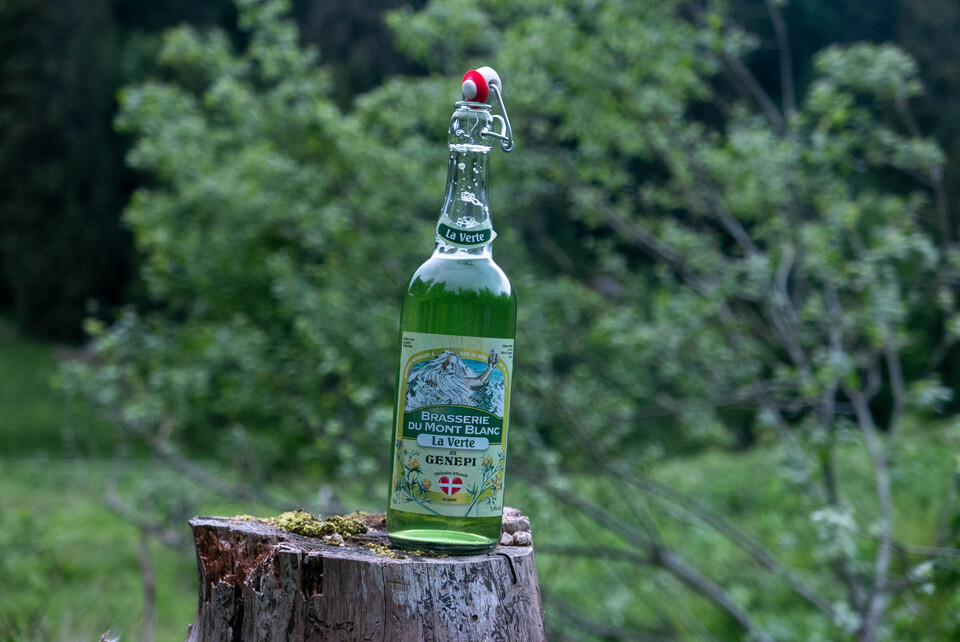 May 28, 2018, Dent de Crolles
Savored this Grimbergen Alliance de Pêches after hiking the Dent de Crolles next to Grenoble. Real tasty.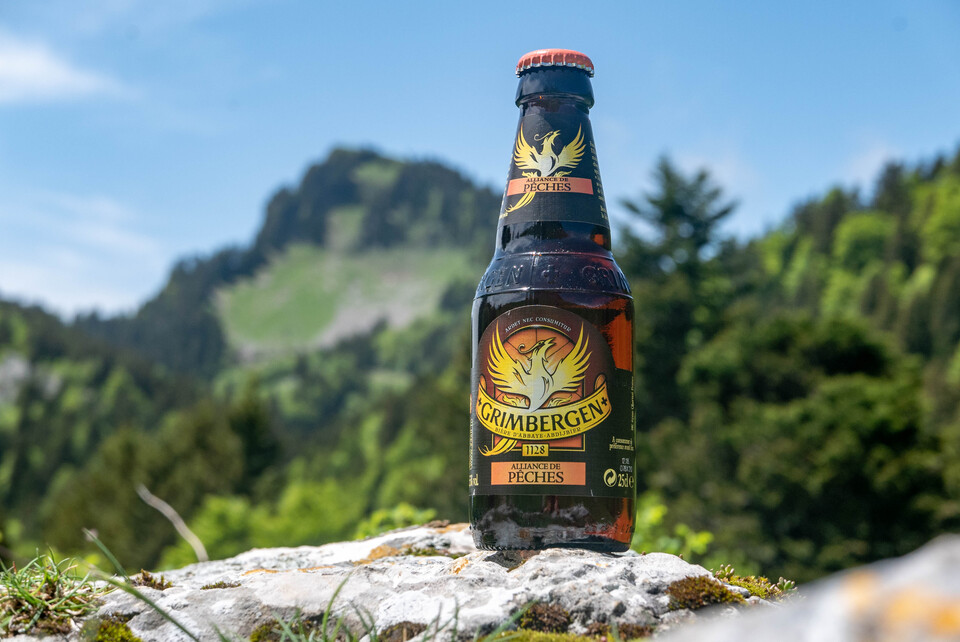 May 24, 2018, Cassis
Was sipping on that blond Affligem while boating around the Calanques. I spent more time on that shot that I'm willing to admit.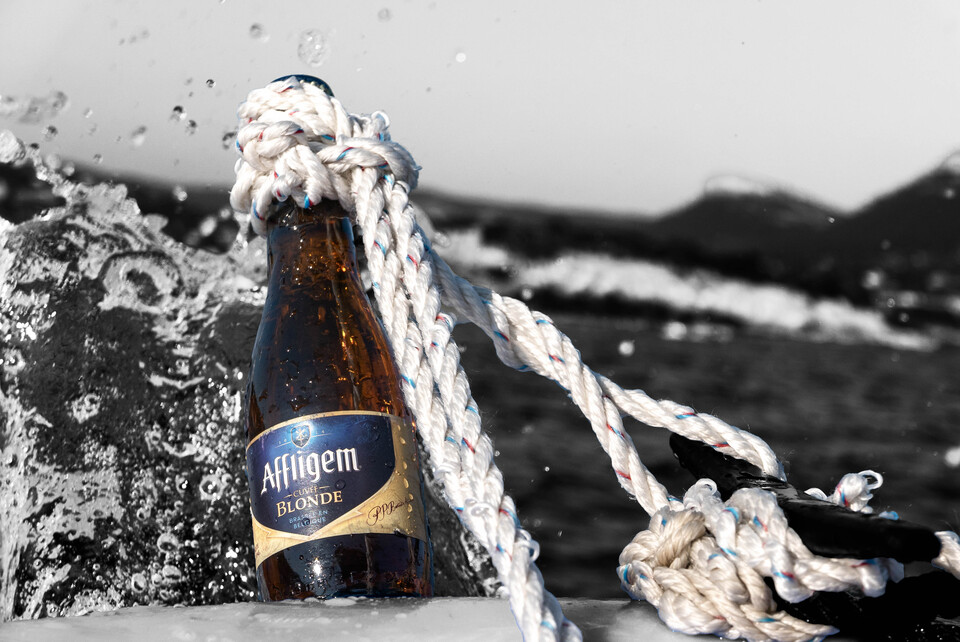 May 5, 2018, Vauvenargues, Provence
That iconic Leffe Ruby in the middle of Provence, next to waterfalls. Probably one of my favorite red beer, such a great balance between fruitness, woodsiness, without being too sweet.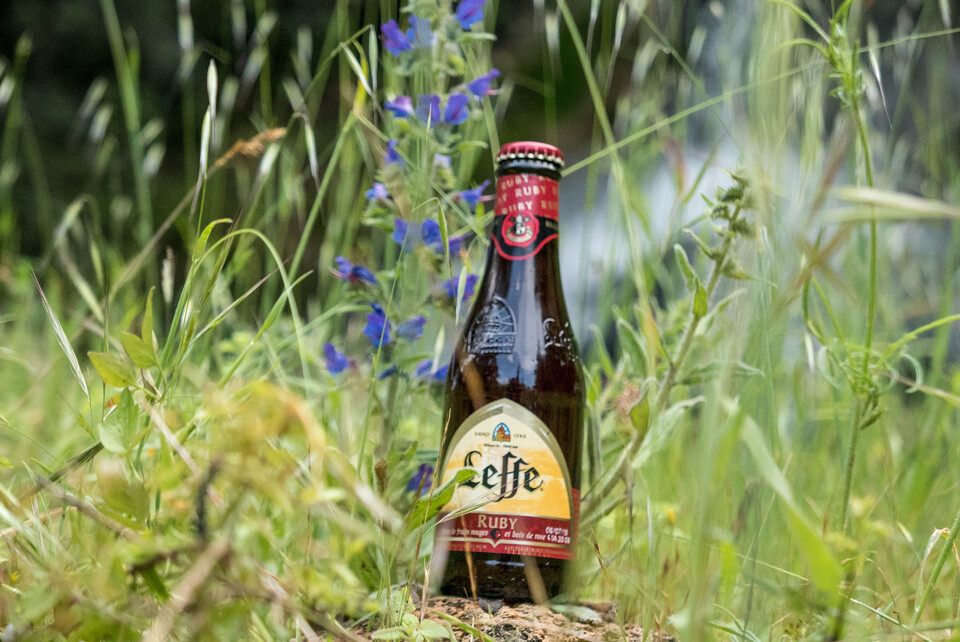 March 3, 2018, Magog
Again in Magog, took a couple shots of that Belle Gueule Brassin des Fêtes in front a waterfall. First one with a long exposure, second one with a very fast one.
January 14, 2018, Magog
Belle Gueule Hefeweizen on the iced Magog lake. Refreshing, even though we didn't really need to be refreshed after that hike in snowshoes.
September 7, 2017, Croix de Belledonne
Took that good old blond Leffe all the way up the Croix de Belledonne, the biggest summit around Grenoble. Tastes fantastic at 3000 meters of elevation.
September 6, 2017, Lac de Monteynard
Classic Affligem in the lake.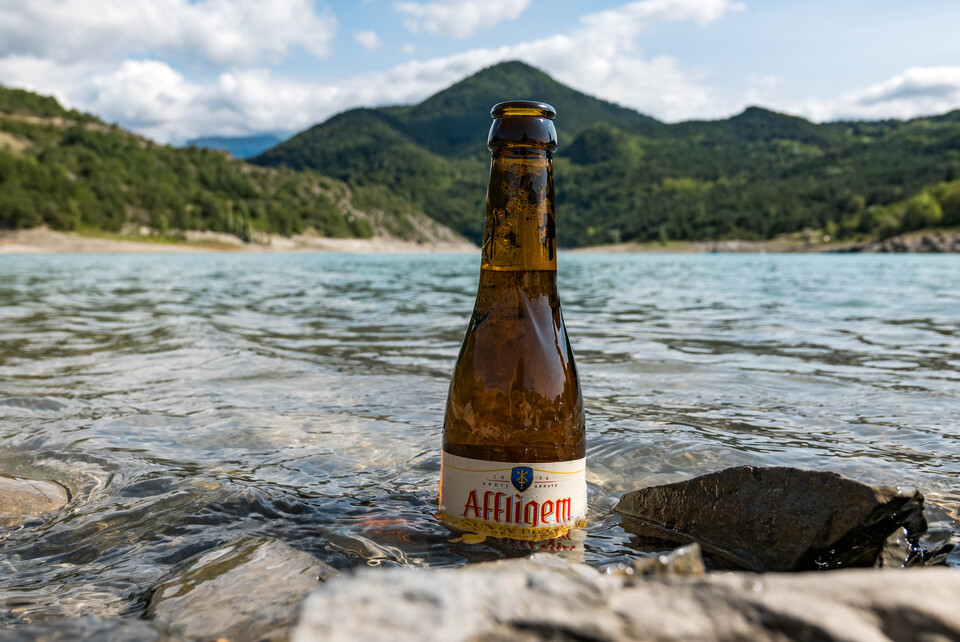 August 23, 2017, Ermitage Saint-Jean du Puy
Nice good Leffe Triple on top of the hike in the middle of Provence. Tasty, strong and refreshing at the same time. Can't go wrong with Belgian beer.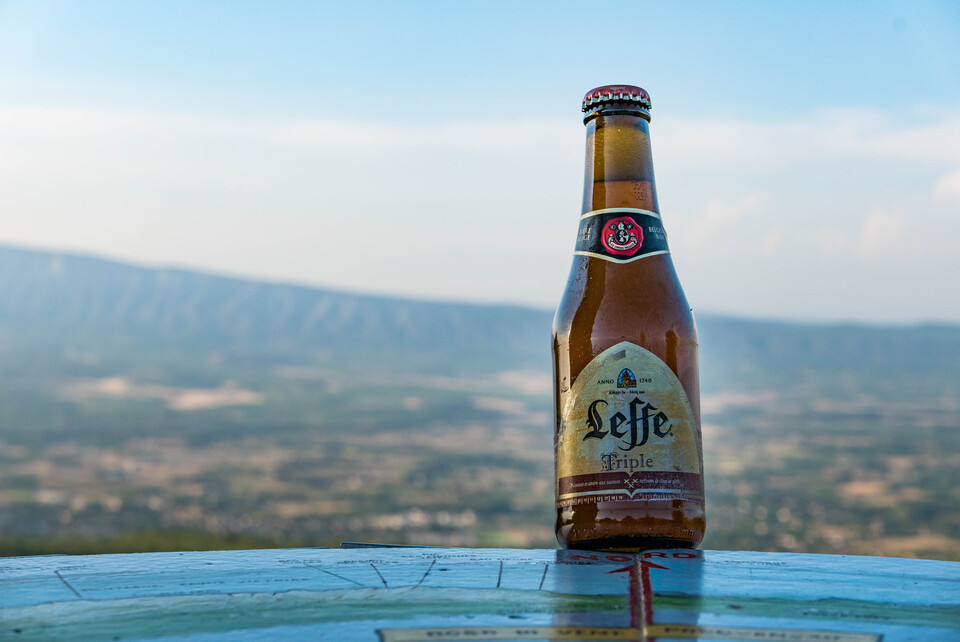 July 23, 2017, Big Beehive, Banff
Together with the Summer Shandy box, we also got a box of those Coors Banquet. Not a great beer, but the spectacular view made it taste much better than it should have.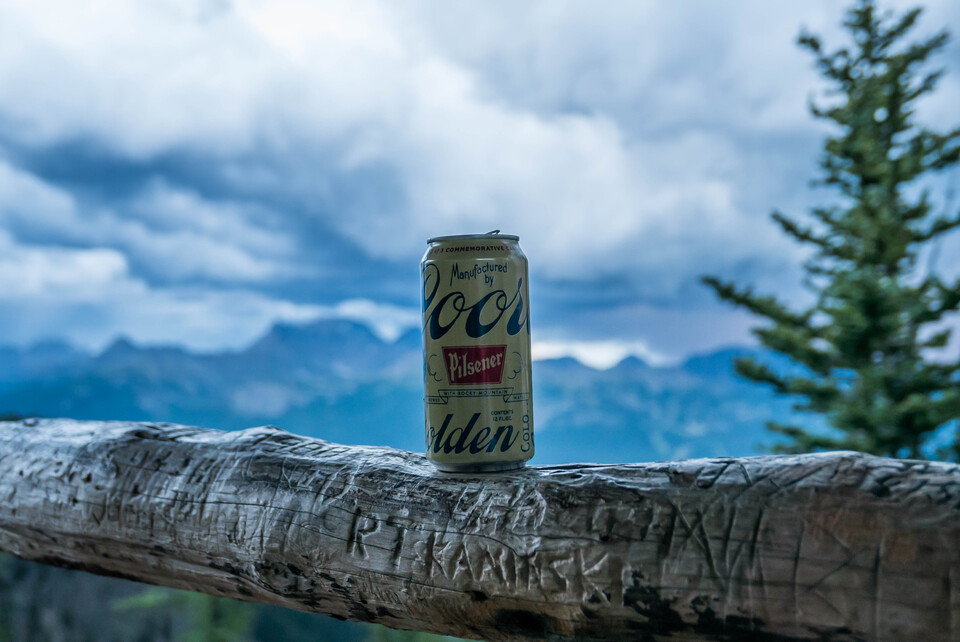 July 19, 2017, Centennial Ridge, Banff
Amazing hike in the Canadian Rockies, well deserved beer on top. For the story, we grabbed a huge box of those Leinenkugel's Summer Shandy at the duty free when crossing the border back to Canada, and I can tell you they were cheap as fuck, and super tasty and refreshing.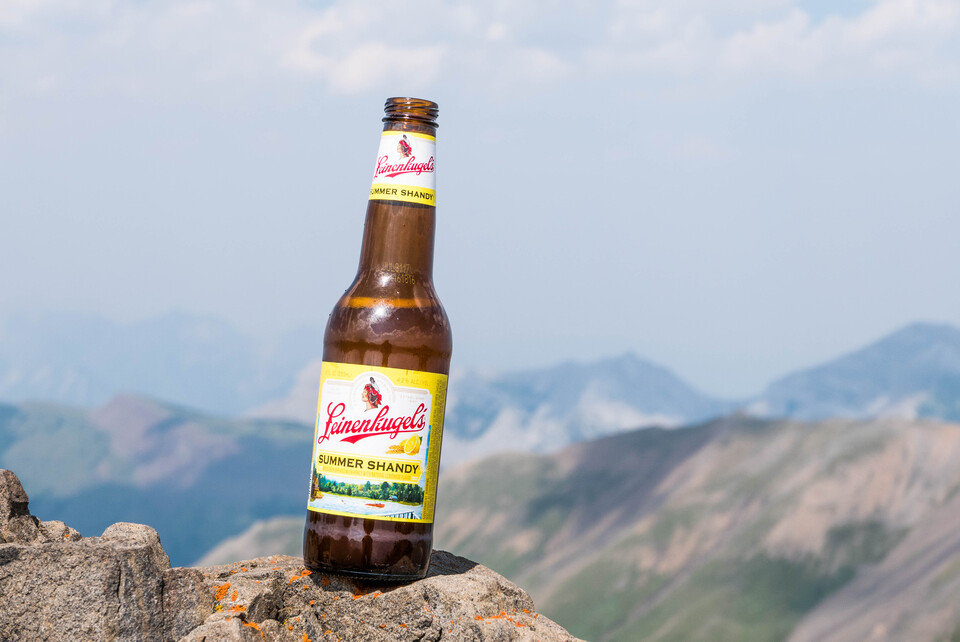 June 18, 2017, Sainte-Marguerite waterfalls
Went to the waterfalls with a couple friends. Classic Boréale Rousse, but great background.